Welcome to Healsens, the revolutionary AI-based platform that is transforming the way we take care of our health! Gone are the days of generic health advice! At Healsens, we understand that each individual is unique, with their own specific needs and concerns. That's why our platform uses modern analytical methods to process vast amounts of data, allowing us to provide tailored recommendations for disease prevention and overall health optimization. Our mission is to empower you with the knowledge you need to make informed decisions about your health, by taking into account personal factors such as your genetics, lifestyle, and environment. So whether you're looking to improve your sleep, manage stress, or prevent chronic diseases, Healsens has got you covered. Join us today and discover the future of healthcare!
Smart Electronic Medical Record
Each user will be able to receive a smart electronic medical record that not only stores the results of laboratory tests but also analyzes them.
Gone are the days of having to rely on scattered records from different healthcare providers. With Healsens, you can store all your health information in one convenient and secure location, from the results of your laboratory tests to your at-home measurements. Our platform even goes one step further by analyzing this data, providing you with insights and recommendations based on your unique health profile.
Imagine being able to track your blood pressure, weight, blood sugar, and more from the comfort of your own home. Healsens makes it possible. By syncing with compatible devices, our platform allows you to easily track your health metrics and view them in real-time. And with our electronic health record, you can track changes over time and set personalized goals for your health.
For example, if you're managing hypertension, you can easily see how your average blood pressure changes over time. This information can help you understand how effective your treatment is and make informed decisions about your health. And this is just the tip of the iceberg – Healsens offers a wide range of features to help you take control of your health and live your best life. Join us today and discover the future of healthcare!
RELATED ARTICLES
Healsens
Health Risk Assessment
One of the key features of Healsens is our ability to calculate health risks using clinical risk calculators. These calculators take into account a wide range of factors, from your age and gender to your medical history and lifestyle habits. By analyzing this data, we can help you identify potential health risks at an early stage, allowing for timely interventions and preventative measures.
Take cardiovascular disease, for example. In our earlier article "Cardiovascular Risks Assessment" or the review "Cortisol/DHEA-C Ratio", we discussed how Healsens uses clinical risk calculators to assess your risk of developing this condition. And the best part? These calculations are based on conventional, inexpensive lab tests that are readily available to most people.
But the benefits don't stop there. By assessing your risk factors, Healsens can also help you understand how changes in your lifestyle can impact your overall health. For instance, by making simple changes like improving your diet or increasing your physical activity, you may be able to significantly reduce your risk of developing cardiovascular disease.
At Healsens, our goal is to empower you with the knowledge you need to take control of your health. Join us today and discover the power of personalized healthcare!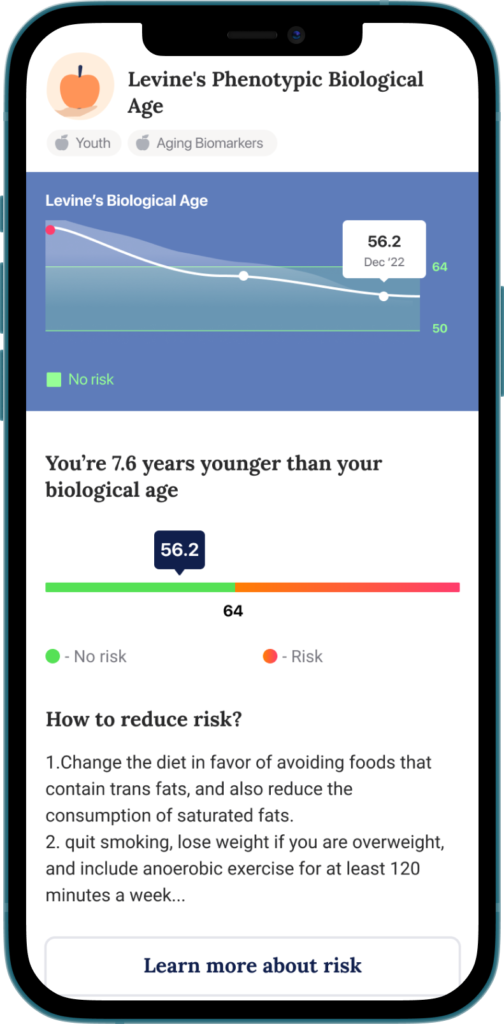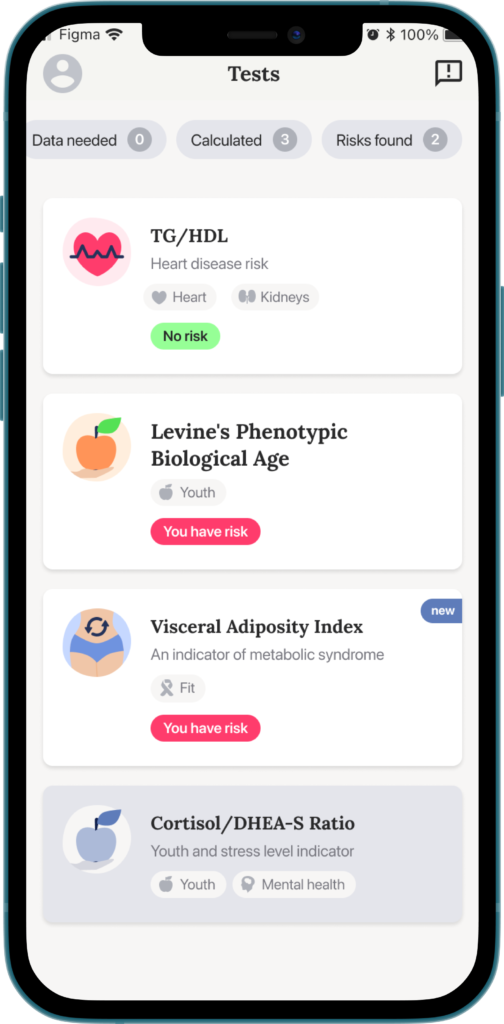 Understandable Medical Research Results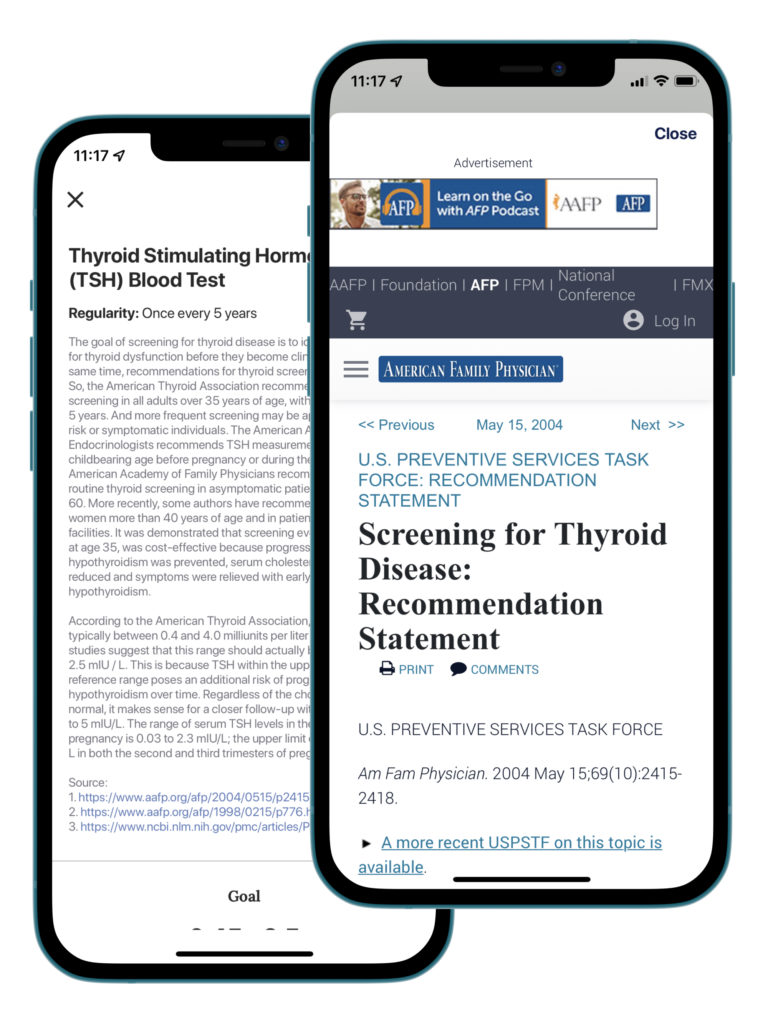 Our team of experts carefully selects and processes information to answer the most important questions, providing you with clear and concise explanations of each test's purpose and potential outcomes. With diagnostic examinations, we also provide possible explanations for test results outside the normal range. But we don't stop there – our doctors are constantly training neural networks to help interpret test results just like a doctor would, ensuring the accuracy of our assessments.
At Healsens, we understand the importance of regular health screenings, which is why we present information in terms of the need for screening and allow you to customize the frequency of your laboratory tests. Our application will remind you when it's time to repeat your examinations and provide recommendations from international medical organizations on the target values for each test. And if your results fall outside of established limits, our app will suggest which doctor to contact and what additional actions can be taken to prevent disease development.
But that's not all. We also offer resources to help you expand your knowledge on preventive treatment, including a plain explanation of approaches to early diagnosis and descriptions of various treatment approaches from different countries. And depending on your region, extra functions such as signing up for medical examinations online may be available.
At Healsens, we believe that everyone deserves access to quality healthcare. Join us today and discover the power of personalized medicine!
Health Risk Assessment Questionnaire
Healsens aims to provide comprehensive health risk assessments to its users. This involves offering a range of surveys that cover various aspects of personal health, including mental health, family history, and current health status. By collecting and analyzing this data, Healsens can accurately assess an individual's personal health risks. This includes identifying the risk of developing certain conditions such as depression or diabetes.
One of the advantages of Healsens is that it relies on clinical tools that are already widely used in medical practice. This means that the assessments are reliable and can be trusted to provide accurate information. Once a user's personal health risks have been identified, Healsens will provide guidance on how to deal with them. This may involve lifestyle changes or medical interventions, depending on the specific circumstances.
By taking advantage of Healsens' health risk assessments, users can gain a deeper understanding of their health status and take proactive steps to improve it. This can lead to better health outcomes and a higher quality of life.
Follow us on Facebook|| Instagram || Telegram || Youtube
How to Join Healsens
Chronic diseases don't have to be an inevitable part of life. While some researchers consider aging to be associated with the onset of one or more chronic diseases, studies have shown that 47.1% of people aged 45–64 have at least one chronic disease1. But why settle for being among those statistics when you can take steps to prioritize your health and well-being?
At Healsens, we believe in making preventive medicine accessible and easy to understand for everyone. By subscribing to our app, you'll have access to tools and resources that can help you reduce your risk of chronic diseases and improve your overall health. Great news! The Healsens app has already been launched and is now available for download. We are dedicated to making preventive medicine understandable and accessible to everyone, and we invite you to download the app and start taking control of your health today..
Beta-Testing
Additionally, we offer a beta-testing program for users who are interested in influencing the development of the product to better suit their personal needs. By joining our beta-testing program, you will have the opportunity to provide feedback and suggestions that will help shape the future of the app and ensure that it meets the needs of our users. We are committed to continuously improving the app and providing the best possible experience for our users.
To join our beta-testing program and have the opportunity to influence product development to better suit your personal needs, please submit the form below.