WHAT IS HEALSENS?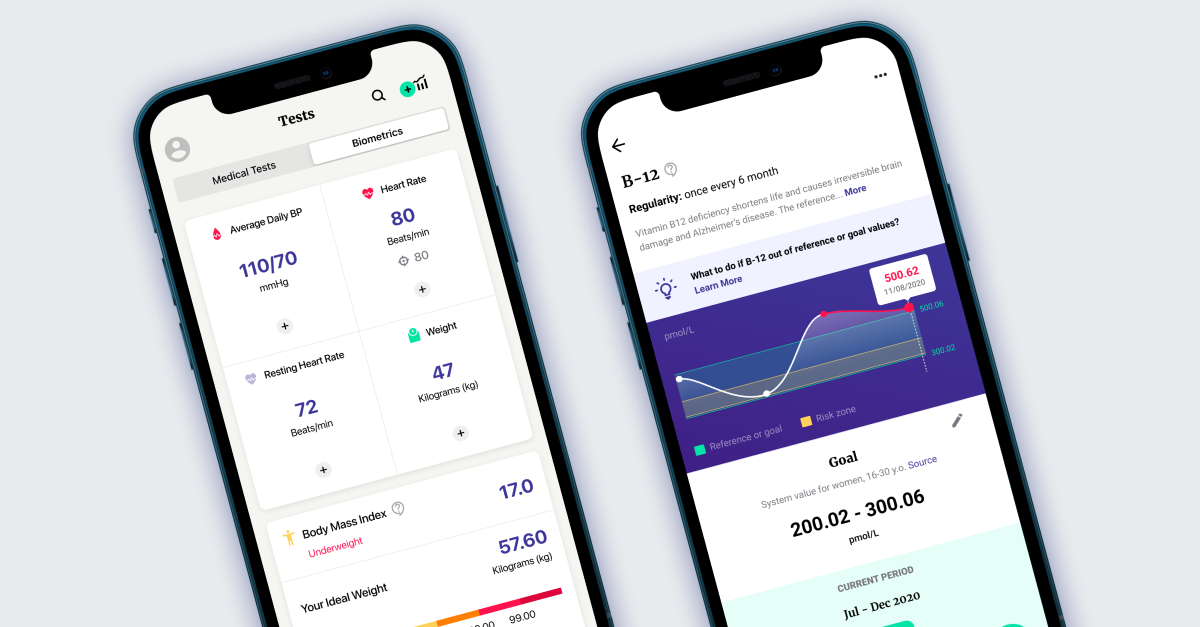 Healsens is an AI-based platform designed to help everyone take better care of their health. It is based on the modern approach to analyzing and processing the large bulk of data that can affect human health in direct or indirect ways. Best doctors in their field, experienced engineers, and scientists are working on its creation. Our goal is to provide information on disease prevention taking into account personal factors. What does this actually mean?
Smart Electronic Medical Record
Each user will be able to receive a smart electronic medical record that not only stores the results of laboratory tests but also analyzes them. Unlike most other solutions, Healsens can also store home measurements. We're talking about measuring blood pressure, weight, blood sugar, and so on. In addition, Healsens electronic health record makes it easy to track dynamics and set personal goals. For example, you can clearly see the changes in the average blood pressure. This data allows you to understand how effective your treatment of hypertension is. And this is all just one example.
RELATED ARTICLES
Health Risk Assessment
Healsens analyzes data it obtains and calculates health risks based on it. We use clinical risk calculators. An example of such calculations for cardiovascular diseases was given in our earlier article "Cardiovascular Risks Assessment" or in the review "Cortisol/DHEA-C Ratio". The main purpose of such calculations is to diagnose a disease at its early stage. And this is based on the common inexpensive tests. Convenient, isn't it? Besides, they are based on conventional, inexpensive lab tests. This information has other practical uses as well! The assessment of risk factors can clearly demonstrate how the total risk changes if you switch to a healthier lifestyle.
Understandable Medical Research Results
Information on laboratory tests and medical research is selected and processed to answer the most important questions. First, every test has a description of its purpose and possible explanations for the test results being outside the normal range. In this case, we will talk about diagnostic examinations. Besides, we are working on interpreting test results just like a doctor does. To do this, our doctors train neural networks to enable them to "understand" test results*. The assessment of the interpretation accuracy is comparable with that of a doctor.
Secondly, since some health examinations are recommended on a regular basis, Healsens presents information in terms of the need for screening. In one of our articles, we've already given a detailed review of the differences between diagnostic and screening examinations. For screening tests, Healsens allows you to receive and customize the frequency of laboratory tests. The application, in turn, will remind you when to repeat the examinations on time. In addition, you will also be able to constantly receive recommendations from international medical organizations on the target values ​​of each examination, so that you can see which ranges are healthy. If some results lie outside the established limits, the application will suggest which doctor you should contact and what additional actions can be taken to prevent the disease development. These recommendations apply to chronic diseases where a person's lifestyle is significant.
This means that you can expand your knowledge on preventive treatment. The app describes various treatment approaches in different countries, provides a plain explanation of approaches to early diagnosing, and thus prolongs your life.
In addition, depending on the region, some extra functions are available, such as signing up for medical examinations online.
*Features not available in the first version of Healsens.
Health Risk Assessment Questionnaire
Healsens will offer a variety of surveys to assist at health risk assessment. By making various assessments of mental health, family history, current health status, etc, it will assess personal risks. Based on its results, you will come to understand how to deal with it. So, for example, you can assess depression and its severity, or identify the risk of diabetes. We only use clinical tools that are already used in medical practice.
Subscribe || Follow us on Facebook || Twitter || Telegram || Youtube
How to Join Healsens?
Chronic diseases are not inevitable life companions. Although some researchers refer to aging as a condition with the development of one or more chronic diseases1, about 47.1% of people aged 45–64 have at least one chronic disease2. Would you rather be listed among healthy people? For our part, we are working to make preventive medicine understandable and accessible to everyone! If you are interested, then we invite you to subscribe to Healsens app. As soon as it is available, you will receive a notification to your email address.
In addition, if you have an interest, we invite you to take an active role part in solution creation. For these purposes, we have launched the Beta Testing program. First, beta testing will allow you to receive the program before all other users. Secondly, you will be able to influence the course of development. To participate, you need to be the owner of a smartphone and fill out a special form.
FURTHER READING