An electronic medical record is still going through hard times for a number of reasons, a major of which is doctors' limited time: 2015 studies showed that doctors spend 43% of their time entering data into computers, and only 25% of their time – talking to patients. The importance of medical information, understanding of patients' health record, performed treatment, immunization record card, and medications can hardly be overestimated, but what shall we do when different health facilities have only small portions of data? Healsens is a service that stores and processes medical data, which is good by itself but not enough. Therefore, today we will tell you about what we mean by a "Smart Medical Record".
So, we are not just working on the system of data storage, Healsens is a personal 24/7 virtual your preventive healthcare provider, capable of:
Your lab test results
This means you will not only see the boundary limits of every lab test, now most labs do an excellent job of it. Our platform will analyze the changes and indicate risks and possible diagnosis with regard to your health condition. It is not the same as to google every marker exceeding the norm and read about millions of possible reasons. Healsens will evaluate all the parameters in context, the way a practitioner does. This is what Healsens artificial intellect is taught to do. Such information will reveal a huge potential for health support. Besides diagnosing, the platform will detect risks associated with lab test result levels, when borderline states don't qualify as a disease yet but indicate high risks of getting it, if no measures are taken.
RELATED ARTICLES
Our goal is to reduce by 1/3 premature deaths from non-communicable diseases through prevention
Assessing your health condition and disease development risks
Healsens platform requires information about your lifestyle, habits, diseases, your family health history. To get it, the platform is developing a health risk assessment questionnaire sample. Using it you will get questions about your health, your habits, health history which affect your health condition. This information is needed to assess the risks and select the necessary set of measures. As a rule, doctors also assess the risks of their patients, but they use just a few certain factors. For example, doctors may calculate risks using special indices, such as the Framingham score, PROCAM score or the European SCORE-system score for cardiovascular events, which we mentioned in some of our articles. Our solution will also calculate these scores, however, it will take into account other risks as well. And this is the second reason why information technology helps medical research.
But most importantly, Healsens will do its health risk assessment with regard to your earlier medical tests and will suggest some additional lab tests to evaluate your health. For users eager to improve their health, those having family history of cardiovascular diseases or cancer, users exposed to diabetes risks, or those who would love to assess their general health, Healsens will come up with the list of health screening tests of risk factors and early symptoms of most common age-related diseases.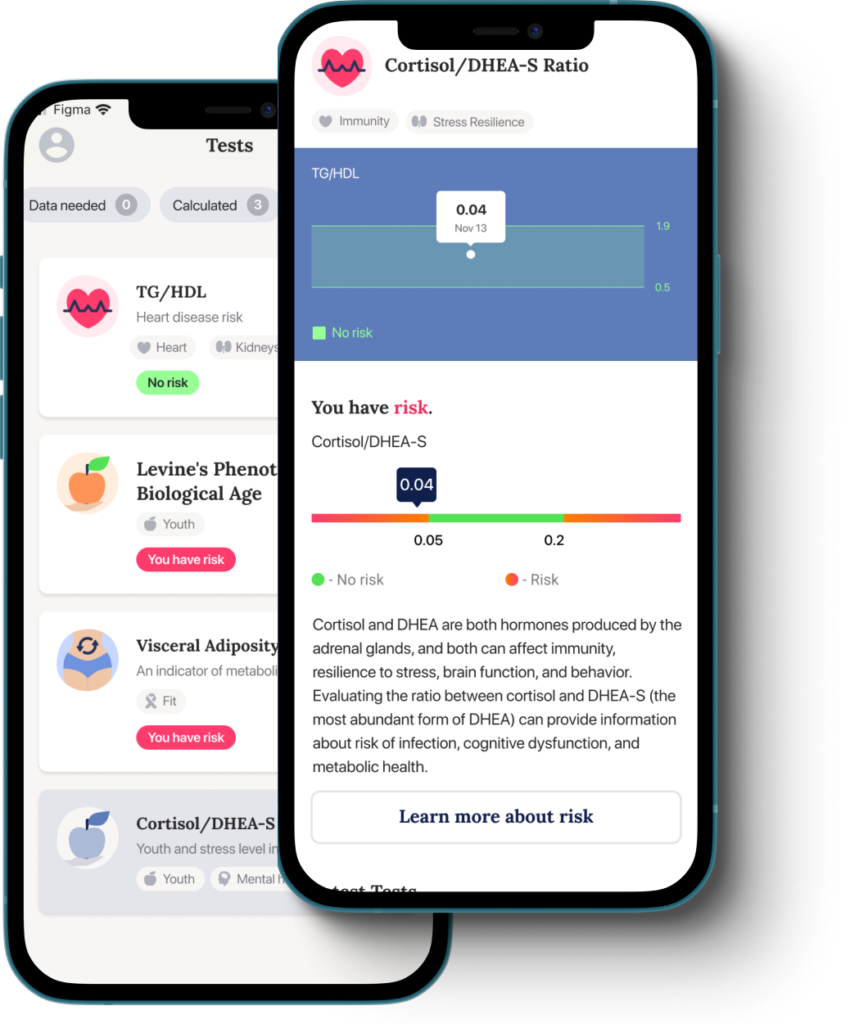 Therefore, in order to save the doctor's time, we accumulate various calculators developed by clinicians and experts. And we make calculations for each of our patients. And to make the calculations clear for patients, the program provides data in a simplified form. Does it sound interesting? Then subscribe to the application for your platform. In addition, if you want to directly influence how Hilssens works, then you can connect to the beta version of the program using the link below.
Screenings and Diseases Prevention in Healsens
Every user in the Screening section can launch the "Early Diseases Diagnosis" list of health screenings or create their own list of examinations. Each examination, whether it be a blood test, MRI, CT, ultrasound, etc. has its own periodicity, the optimal goal in order to reduce health risks. The initial plan will be created with the assumption that you are completely healthy. But as more information becomes available, the plan will change. Don't be surprised if some analysis is suggested to be run less often or more often, or healthy ranges are narrower. The application will inform why this happened and what are the reasons for such changes.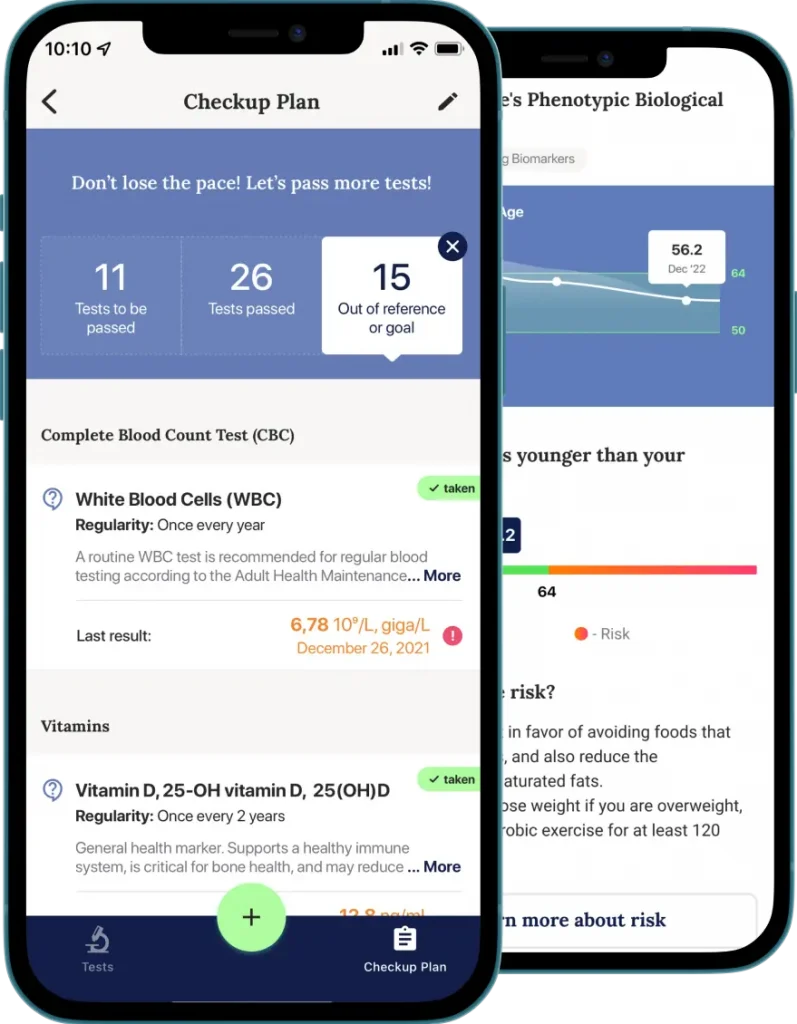 So, the more Healsens understands your personal risks, the more it can fine-tune its screening schedule to maximize value for your health. This is the essence of how Healsens works. Based on the assessed risks, one can better understand which medical examinations should be included in a personal health screening plan. To do this, you will be able to set up and manage a plan for medical examinations.
It is worth saying that more than half of the respondents regularly undergo certain examinations and screenings. Thus, according to the latest data, in 2018 more than 65% of Europeans visited a doctor for preventive examinations and tests. At the same time, unfortunately, only 17% include screenings for age-related diseases, and these diseases are the main causes of early death and disability.
As we have said, Healsens accumulates recommendations from various health organizations (USPSTF, TFHC, etc.) in the field of preventive medicine. We constantly monitor their recommendations and provide updates to our users. Thus, you will always be up to date with the latest news on how to maintain your health.
And, of course, all this information means nothing if you don't know what to do with it. Therefore, Healsens will send suggestions based on the results of your data. So, you can always find out which doctor to turn to, how serious the problem is, what can be done to significantly improve the condition. In addition, we regularly publish articles to provide as much detail as possible about diagnostics and treatment options.
How Healsens Works with Partners
Healsens cooperates both with insurance companies that are interested in maintaining the health of their patients, and with private laboratories and clinics. In this way, you can always choose the option that suits you best. And besides, even if there are no partners in your area, you can still get the full range of Healsens preventive care services.
Cooperation with private laboratories allows you to simplify some of the application's functions and save money. Connecting to the package of insurance companies and in general will allow you not to pay for examinations. So, when using the services of our partner laboratories, you will be able to receive information about various discounts and promotions. In addition, online ordering saves time. This is especially important when you need to undergo some specific examination (like MRI, CT, ultrasound), where a preliminary appointment is required. It does not matter which laboratory you use, all your data will be stored in one place. Remember, you can always download all the data and print it. Which might be helpful if they need to be sent to a doctor.
In addition to the benefits described, ordering online will automatically get your results into the app. Manual adding lab test results is not the most pleasant task. On the other hand, manual entry allows you to add the results of self-examinations (blood sugar, keep a diary of pressure, measurements of waist circumference, weight, etc.). In turn, we tried to simplify this process as much as possible.
Finally, an added benefit of storing your medical history in Healsens is that all of your data can be translated into another language in a matter of seconds. Convenient, isn't it? Especially if you travel or move to another country!
Our goal is to prevent disease, and if the disease is progressing – to detect it as soon as possible.
How Healsens Health Programs Work
Health improvement programs are designed to minimize emerging problems or eliminate them, and in case of age-related diseases – to defer them. As already mentioned, we focus on disease prevention through lifestyle changes.
How does the Healsens Health Program work? The program will offer you lifestyle intervention options, set goals and help you achieve them. Based on the results of the end of the program, you will be able to retake the tests and see your progress in numbers. Don't underestimate the benefits of adopting small healthy habits. In our Telegram group, we regularly post the data of our beta testers who are willing to share their successes and the ways that helped them achieve such results.
Where Are We Now?
(block updated regularly)
Behind all of the above is many weeks of work of our engineers, doctors and designers. Our goals are ambitious, but resources are unfortunately limited. Therefore, in the first version, we will not be able to show all the functions described above. However, with each new update, we will add new features to it. In the meantime, you can follow the news, as well as sign up for beta testers.
Our beta testers can make their wishes and suggestions, receive free consultations from doctors, and also directly influence how Healsens works. Sounds great? Then fill out the form below. Beta testing will also allow you to receive the program before all other users. To participate, you need to be the owner of a smartphone and fill out a special form.
Thank you very much for being with us!
Healsens goes beyond simply organizing and storing your health and treatment records. It also empowers you with knowledge on preventive care, offers insights into treatment methods from around the world, and provides clear explanations of modern approaches to early detection, which can help extend your lifespan.
FURTHER READING