Type 2 diabetes mellitus is rising at an epidemic scale throughout the world. Up to a certain moment, diabetes 2 (DM2) develops as a latent pathology which accounts for its late diagnosis and onset of therapy. Hence, the high frequency of vascular complications, early disablement, and mortality. Therefore, the improvement of screening studies is of primary importance for the detection of metabolic disorders. Glycated Hemoglobin A1C test is a simple laboratory screening test that can provide a direct measure of how your body is processing sugar in the blood.
This article was last reviewed by Svetlana Baloban, Healsens, on January 24, 2020. This article was last modified on 13 April 2022.
Let's consider who is recommended to take this clinical laboratory test, why it is important, and what glycated hemoglobin counts are considered normal. Also, we will consider the advantages and disadvantages of this test, as opposed to checking blood sugar levels. But we will begin with the meaning of Glycated Hemoglobin A1C test.
Glycation and Glycosylation
Glycation and glycosylation refer to the process of attaching a glucose or sugar molecule to another molecule such as protein or fat. The more sugar there is in circulation in the bloodstream, the more sugar molecules there are to stick to fat and protein, in other words, to glycate them. You control your rate of glycation by the amount of sugar and high-glycemic index foods that you eat.
RELATED ARTICLES
Chronic consumption of sugar and high-glycemic-index foods leads to persistent increased formation of Advanced Glycosylated End products (AGEs). These AGEs are sticky conglomerations of sugar and protein that gum up your enzymes. It leads to adding the burden of toxic waste that must be handled by your detoxification system. This accelerates the aging process in body tissues by covering them with sugar. Besides, it also leads to many of the chronic complications of diabetes, such as blindness, renal failure, and neuropathy.
Glycated Hemoglobin A1C blood test, which reflects chronic blood glucose values, is routinely used in monitoring glycemic control. It's also called HbA1c test, hemoglobin A1C, and glycohemoglobin. The significant reduction in microvascular complications with lower A1C has led to the recommendation that A1C be used for screening and diagnosis of diabetes. Accumulating evidence suggests that racial differences in A1C values may be present. Despite these caveats, A1C can be measured accurately in the vast majority of people. The convenience of this test enables detecting diabetes in millions of people who have it but are not currently diagnosed with it.
In other words, Glycated Hemoglobin A1C lab test shows the average glycation level over the past three months. 1 per cent elevation of HbA1C means that your sugar level has increased by 30 points (in mg/dl) over this period. Thus HbA1C higher than 6.3 is a red flag for diabetes free people. It means that it's time to reevaluate their eating habits and choose low-glycemic-index foods and avoiding foods with high sugar contents.
FUN FACT
Almost 2,500 years ago it was noticed that ants were attracted to the urine of some individuals. So, in the 18th and 19th centuries, the sweet taste of urine was used for diagnosis of diabetes before chemical methods became available.
When Should Glycated Hemoglobin A1c Be Tested?
The American Diabetes Association® (ADA) recommends screening for prediabetes and diabetes beginning at age 35 for all people1. In the presence of risk factors, diagnosis of diabetes should begin earlier. The risks include the following factors:
overweight (≥ 25 kg/m2) combined with such risk factors as:

sedentary lifestyle
parents diagnosed with diabetes mellitus
belonging to certain ethnic groups with high risks of diabetes mellitus
women with a newly born baby weighing more than 4.5 kg or women having gestational diabetes
elevated blood pressure (140/90 mm of mercury) or antihypertensive medication therapy;
low level of high-density lipoproteins (HDL) less than 0.9 mmoles and/or triglyceride level higher than 2.82 mmoles/l
polycystic ovary syndrome
HbA1c level equal to or higher than 5,7% as well as impaired fasting glycemia or glucose intolerance shown in previous tests
other clinical conditions associated with insulin resistance (super obesity, acantosis nigricans, etc.)
cardiovascular diseases in medical history.

In the absence of the above factors, diabetes testing is recommended to all people older than 40.
If the test result is within the norm, re-testing should be done no later than in 3 years, with room for more frequent cause-specific testing based on initial result and risk factors.
WHO recommends taking the test every three months to every patient diagnosed with diabetes mellitus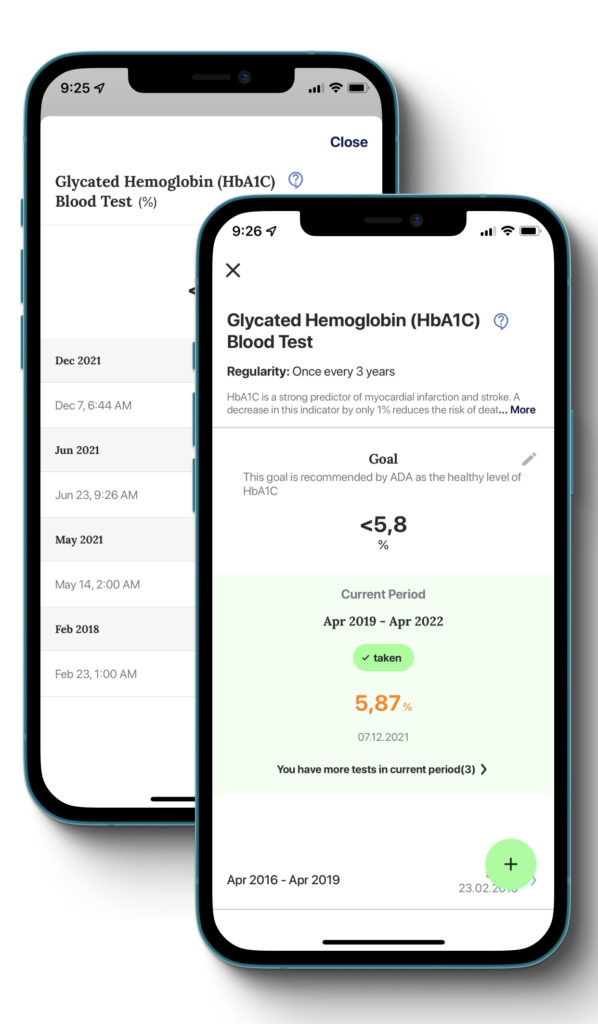 The USPSTF recommends screening for prediabetes and type 2 diabetes in adults aged 35 to 70 years who have overweight or obesity2.
And the USPSTF recommends considering screening earlier in patients with higher risk (i.e., one of the following):
family history of diabetes;
members of certain racial and ethnic groups (i.e., blacks, American Indians or Alaska Natives, Asian Americans, Hispanics or Latinos, or Native Hawaiians or Pacific Islanders);
personal history of gestational diabetes;
polycystic ovary syndrome.
At the same time, many health organizations try to build more advance way to define people who need to take a diabetes screening test. For example, The Canadian Task Force on Preventive Health Care released an updated guideline calling for more precision in type 2 diabetes screening. The guideline, prepared by the independent panel of 14 clinicians and experts, suggests using a risk calculator to identify patients with high risks of diabetes. But this questionnaire is intended just for adults aged 40 to 74 years 3.
People who have diabetes need this test regularly to see if their levels are staying within range.
Follow us on Facebook|| Instagram || Telegram || Youtube
A1C Versus Glucose Testing
Both of these tests are utilized significantly to diagnose diabetes. The usage of glucose screening was the "gold standard" for the diagnosis of diabetes for many years. But this testing suffers from several deficiencies.
For example, the requirement to take blood on an empty stomach. But the most important deficiency is that numerous factors can influence results of blood tests. For example, taking various medications, doing physical activity the day before and so on may result in obtaining inaccurate data. Moreover, fasting glucose concentrations vary considerably both in a single person from day to day and also between different subjects.
Before blood donation, the should be no exercise stress (running, climbing stairs), or any emotional excitement. Before the procedure, you need to rest 10-15 minutes. Calm down. Blood glucose results may be altered due to eating, prolonged fasting, or physical activity. All this reduces the accuracy of the analyses and creates additional difficulties.
HBA1c blood test can be taken amid at whatever time of the day. The investigators concluded that HbA1c testing has a higher sensitivity for identifying patients at risk for diabetes vs FPG.
What Are Normal Levels of Glycated Hemoglobin A1c?
A glycosylated hemoglobin A1C level below 5.7 percent is considered normal4. An A1C result between 5.7 and 6.4 percent (39-47 mmoL/moL) signals prediabetes. Patients with prediabetes should be tested yearly in order to determine whether they have converted to diabetic status. For people with type 1 diabetes, a blood sugar test is recommended.
It is worth mentioning that glycated hemoglobin in the range of 5.7–6.4% (prediabetes), especially in combination with a slight increase in fasting glucose, is associated with an increased risk of mortality, CVD, stroke and coronary heart disease5.
Type 2 diabetes is diagnosed when the A1C results are over 6.5 percent.
Healsens is there to help you with HbA1C screening test schedules regarding all the above factors. Follow us to get news about ways of drug-free control and lowering of HbA1C levels if needed. You can also download our app to use diagrams which will help you monitor changes.
FURTHER READING