With pleasure, we announce that starting from version 1.5 and above of our Healsens application, residents of the Netherlands can now request blood tests without a referral from a general practitioner. This functionality enables you to obtain the essential tests you need, eliminating the need for a doctor's visit. Simplify your healthcare journey with our blood test service in the Netherlands.
To get started, simply log in to the Healsens application and follow the instructions to place your order. Our comprehensive set of laboratory tests, including blood tests, are available to residents of Amsterdam, Utrecht, Arnhem, and other cities across the Netherlands. You can choose our Healsens Checkup Plan, which assesses the health of your vital organs, inflammation markers, heart disease risk, fat metabolism, diabetes risk, anemia risk, and potential deficiencies in vitamin D3 and B12. Alternatively, you can use our DNAm PhenoAge calculator, developed at Yale University, to assess the condition of your liver and kidneys, immunity, inflammation, and metabolism.
RELATED ARTICLES
How to Order Blood Tests in the Netherlands?
To order blood tests online in the Netherlands, you'll need to download the Healsens mobile app and create an account by registering within the app.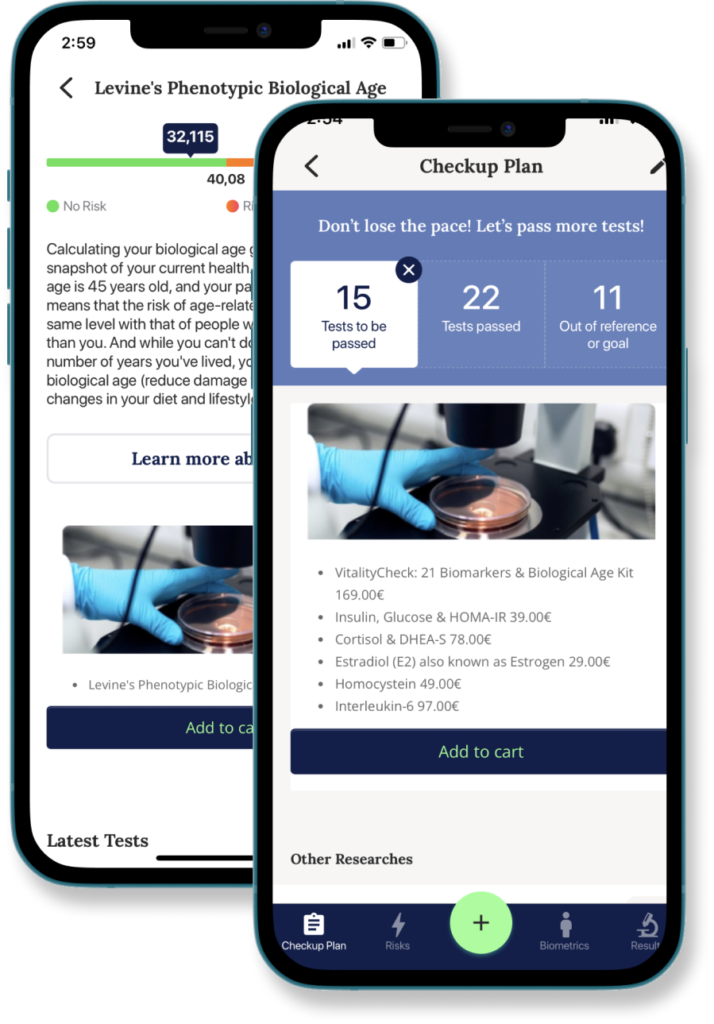 Once logged in, you'll have the option to choose from a variety of lab test packages, including the comprehensive Healsens screening plan, which assesses the most common age-related conditions. Additionally, lab tests from your Healsens plan are readily accessible, along with their respective prices. The application's algorithm intelligently selects the relevant lab tests based on your chosen plan. If you prefer a custom examination plan, the algorithm will also assist in identifying and pricing the necessary tests from the available options. It's not uncommon to find that after completing all the tests and obtaining results within the normal range, the application may not suggest ordering any additional tests. This is how the algorithm operates, guiding you to take only those tests from the list "Tests to be passed" or fall outside the healthy range. You can always view the complete list of available analyses in your profile. In the risk calculators section, you'll also find the option to request a package of analyses for risk assessment. This is where you can conveniently order a package of analyses for DNAm PhenoAge or AIP calculator, among others.
After selecting your desired test package, you'll need to provide some basic information such as your name, address, and contact details. You'll also need to pay for the tests using a credit or debit card. Once your order is confirmed, you'll receive a confirmation email with instructions on how to prepare for your test, such as any necessary fasting requirements.
You'll then receive a tailor-made test kit from one of Healsens' partners by post at your home address. The test tubes will be provided with a barcode linked to your research, and they will be specially prepared with liquid for shipping. It is important to check all your data to ensure it is correct.
In the confirmation email, you'll be able to choose a nearby blood test center where you can have a blood sample taken. You'll need to book an appointment and bring your referral letter, test kit, and ID to the center. The blood will be taken by professionals, and you should have all the tubes in your test kit filled.
Once you've had your blood sample taken, you'll need to send the test kit back to the lab using the pre-paid packaging provided. Simply post the collection material with the lab form as a letter, not registered or with a track & trace code. Medical mail is very well organized by postal services in the Netherlands, and you can be assured that your samples will be delivered safely to the laboratory.
You'll receive the results of your lab tests by email within a few days up to a maximum of 10 working days. No one else will receive your results unless you give written permission. You'll be called first for results that require immediate medical follow-up.
You can use your lab test results to improve your health by getting advice on nutrition, supplements, and lifestyle changes. Healsens works together with various health coaches, specialists, and therapists who provide complementary care. The Healsens app provides access to personalized health plans, coaching, and support to help you achieve your health goals.
Why should you trust Healsens?
Healsens is committed to providing you with accurate and reliable results that you can trust. We collaborate with Medical Laboratories Dr. Stein & College, a highly respected and accredited laboratory in the Netherlands, to ensure that your blood samples are processed with the utmost care and precision. Lab Stein has an excellent reputation within Dutch healthcare. With over 20 medical specialists (laboratory physicians), chemists, biologists, doctors in microbiology, and 600 employees, the laboratory is one of the three largest medical laboratories in Europe. They conduct more than 5 million tests annually.
Availability: Our laboratory test package is cost-effective and utilizes affordable laboratory tests, making it accessible and user-friendly.
At Healsens, we understand that not everyone feels comfortable with preventive medical examinations without a referral from their general practitioner. That's why we work with our partners to ensure that our tests are conducted to the highest standards of care and confidentiality.